Protect Your Ithaca Area Home With Clean Gutters
As a homeowner, you know that something in or around your house always requires your attention. Whether a cleaning job, a small repair, or a major renovation, making sure your home is in good shape can feel like a full-time job. Often, with everything that you need to do, certain areas get overlooked. One of those areas is your gutter system.
Gutters are easy to ignore, but doing so can come with costly consequences. When your gutters get clogged with leaves and other debris, they won't drain properly. If water can't drain, it will back up and cause damage to your shingles, roof, and walls. Water damage in your home can cause a variety of issues, from attracting pests to allowing the spread of dangerous mold.
If you haven't cleaned your gutters in a while, it's time to contact Sweeney's Pest Elimination. We serve Ithaca and the surrounding communities with safe, thorough gutter cleaning services. While some homeowners try to clean out their gutters themselves without the right equipment, accessing your gutters can be a dangerous job. Let the skilled technicians at Sweeney's Pest Elimination take the job off your To-Do List.
Gutter Cleaning Services From Sweeney's Pest Elimination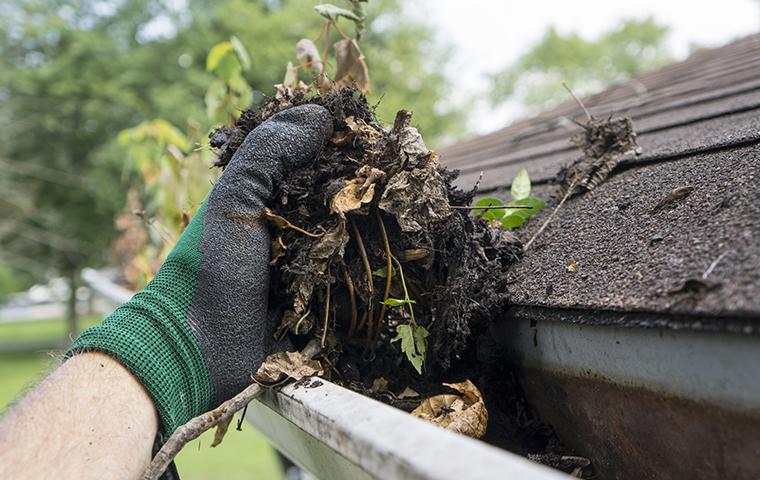 When you contact Sweeney's Pest Elimination for our gutter cleaning services, we can schedule an appointment right away or schedule a time to inspect your home and provide you with a quote prior to our service.
We'll begin with one section of your gutters during the service and work our way around until we've cleaned them all. If we can access the roof, we'll use a ladder to get up there, then clean the gutters from there. If we can't access the roof, we'll clean the gutters from the ladder.
We'll begin by clearing out any debris that is in your gutters. We put this debris in buckets that we dispose of after we finish to ensure no mess is left behind. Once we've cleaned out all the gutters, we also make sure your downspouts are clear so that water can drain through them the way it's supposed to. Finally, if you would like your roof cleared off, we'll use a leaf blower to do that.
No follow-up service is necessary for our gutter cleaning services in Ithaca. If, for some reason, you discover a problem after our service is complete, contact us, and we'll return to make it right.
We recommend yearly gutter cleaning services in the fall to clear your gutters of leaves before winter comes. Gutters often get clogged in the fall, and when the water freezes and expands as the temperature drops, it can cause all sorts of problems. By having your gutters cleaned in the fall, you can avoid this problem.
Clean Gutters For Your Peace Of Mind
Cleaning out a home's gutters is a task that is often either forgotten or avoided. However, if you want to prevent water damage, you need to have clean gutters. Instead of ignoring your gutters, hand the task over to the experienced professionals at Sweeney's Pest Elimination. We'll carefully and thoroughly clean out your gutters so that you can have peace of mind knowing that they're working the way you need them to. To learn more or to schedule your gutter cleaning service, contact us today.
Call Us Today For An Estimate!
Complete the form below to schedule your no obligation inspection.